From Poppy in Gig Harbor WA:
Dear first human mom, Jan,

I thought it would be nice if I checked in with you. I've been at my new home for a month.
Lots of things going on here where I live!
There are these crazy things called waves, they scared me at first, but I'm much braver now. I've been out in the water about up to my elbows, but I haven't needed to dog paddle yet. My new mom has a 30' lead so I kinda have free range on the beach and water when we walk.
Lots of neighbor dogs that come to play in my yard, Apollo, Bella, Punky, they really don't play with me much, they like my toys better than me. I'm a lot for them to handle since they are adults.
Lots of grandkids have come and gone and they are just like you said, I'm the peanut butter and they are the jelly. My mom tells all the kiddos what's best for me and they seem to take good care of me.
Tomorrow will be my 4th puppy play class. I love all my friends there, we are all puppies so we think alike! They have great toys there and lots of space to run around, they even have a tunnel to run thru!
This week I also started puppy classes at PetSmart, and another one at a place called Sidekicks. It's absolutely exhausting, I need to be carried to the car afterwards. Sidekicks is most casual and my mom likes it best. PetSmart is click training, I do fine, but my mom is not nuts about the click stuff. We will continue with both and then if we go to more classes after 6 weeks, we will just pick one. My mom is beginning to realize how smart I really am, and she's not sure it's a good thing!
Humans!!!!!
I'm not gonna lie, the first 2 weeks were pretty tough on my mom, and I'm quite sure she didn't even think I was cute….at least that's what I hear her tell people. I'm gonna go out on a limb and between you and me, I think she loves me now. I'm better, and we know each other better and we try to keep each other happy. I do try to decorate with toilet paper whenever I get a chance, and since I've gone directly thru the screen door twice, home improvements have happened with the screens. That was when I was much younger tho.
My teeth are falling out and coming right back in. My mom found a canine tooth on the floor last nite. Not sure if puppies have tooth fairies, but it's worth a try.
I'm thankful my mom found you and became your friend. I hope if you're ever in my area, you come visit me and my mom. She really likes you and all the reassuring words you had for her in the beginning of this crazy adventure!
She also said if you want any advice about Kauai, she'd be happy to help!
She's going back there next March and she's already looking for good boarding options for me. I know she wishes she could take me with her….I know she will miss me something awful…🐾

---
---
Paddington won Pet of the Week in the West Seattle Herald! Read the article, entitled Pet of the Week: Paddington is playful and polite.
Paddington is the pride of Robin Dalton who along with David Dorn take the 1 year old Labradoodle for walks in the neighborhood or in Lincoln Park. Dalton got Paddy from Seattle Labradoodle, a breed that is a combination of Labrador and a Standard Poodle. Paddy is hypo allergenic. She has fur not hair. Consequently everyone wants to pet her soft curly apricot colored coat.
Dalton said," I went up to the breeder to see the puppies when they were about five weeks old and I was holding her then. I picked her out of the whole litter. She was the darkest and curliest and was just a chewing little thing at that time and I kept going back up there to see her. I was really drawn to her but the funny thing is, the third time I went up there to see her (...) she was being a little pistol." Dalton had second thoughts about Paddy thinking she might be a problem dog, "So David said, 'You need that one. But I almost chickened out. But I'm so glad that I did not."
Photo: Kimberly Robinson / West Seattle Herald
"Perfectly Perfect Australian Labradoodle Grooming Award" goes to.......... Rex on Capital Hill . Thank you Rex for your attention to detail!
---
Congratulations Cannoli, Mom and Dad!
---
Stella, the most gentle dog ever
---
---
---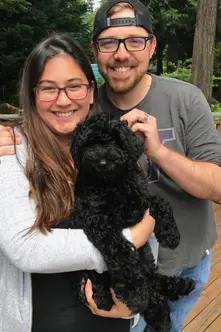 ---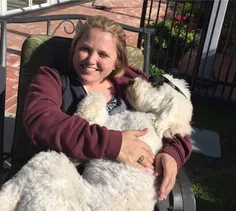 ---
Hi there,
I just want to wish you a very Happy New Year!!!!!!
Love, Willy the Labradoodle
West Seattle, WA
---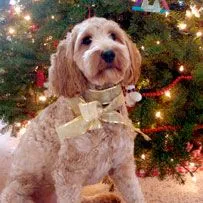 Hi Jan,
I meant to send these pictures of Millie earlier! She is our Christmas lovie!
Thank you for letting us love on her!
Ingrid Hires
Auburn, WA
---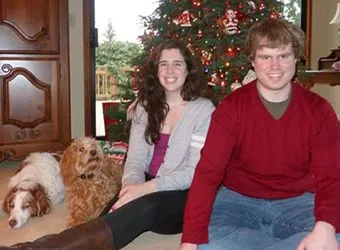 Jan,
Bennie's birthday today I believe!
I have been think of you and wanted to say hi. Bennie is wonderful, to put it plainly. He is so loved by our family. When the kids left to go back to college I think the goodbye to Bennie was the hardest of them all! Abigail regularly Skypes with Bennie.
Bennie has been a wonderful companion to Britt who had two TPLO surgeries this year!. Bennie walks daily with me, once a week with his friend Gidget, a miniature schnauzer and loves to play with Capri, a Portuguese Water dog. On every walk we take we are stopped to be adored, he is know as the cutest dog in the world by many! And I can not tell you how many people say he looks like a stuffed animal! The photos are not very good but wanted to send you something.
He has even turned Paul, my husband, into a softie, picks him up when he gets home from work!!
So we are smitten with the breed and head over heals in love with Bennie.
Hope all is well with you and your family. Happy New Year!
Fondly,
Sarah
Portland, OR
---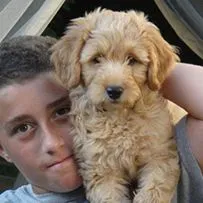 Hey Jan,
We do have the best dog ever ☺ ... thank you.
We will buy more from you...
Best,
The Lavi family
Cupertino, CA
---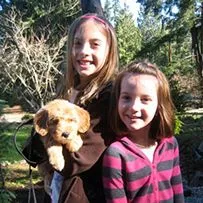 Thank you, Jan!
The first day and night went well. The kids are crazed with excitement and I must say it was nice to send them off to school today (for me, anyhow)! Snicker has been doing great with housetraining.
Shawna
Woodinville, WA
---
Hi Jan,
I hope this email finds you well. I am sorry it has been so long. Rusty is doing awesome and has really become our love bug. He is my 3rd child - I think my husband is getting jealous. The boys adore him and he hangs out with us wherever we are at home. He thinks he is a person and sneaks into the bed and makes himself at home on a pillow any chance he gets - we could not be a happier.
Warm Regards,
Lisette
Miami, FL
---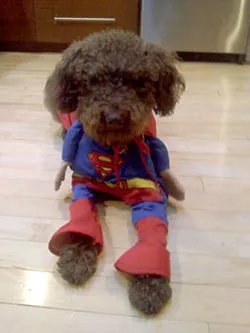 Hello Jan!
Here is a recent photo of Sophie in her Halloween costume. It's hard to get good photos of her because she is so dark!
We took her camping out to the Olympic peninsula a few weekends ago and she did really well. She is always amazing with Maggie - Maggie pulls bones, balls, anything really out of Sophie's mouth and Sophie has never once growled even. She has been a wonderful addition to our family. Sophie also lays at the foot of Maggie's bed for bed time stories and sleeps on Maggie's bed. She still has lots of puppy enthusiasm, but that is often improved with exercise. She is a champion ball chaser. Her name has transformed into "Sophiedog" and not just Sophie because that is what Maggie calls her!
Hope you and your family (both human and canine) are well and enjoying the fall weather.
Peggy
Bellevue, WA
---
Dear Jan,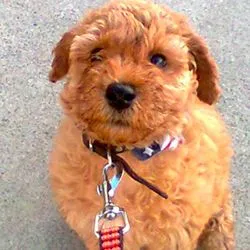 Hi, just want to let you know how Rainbow is doing. He already knows these things: sit and stay, come, heel with leash and without leash, going up and down steps, roll over, shake hands, lay and stay, under table and chair, alert me to my alarm on my cell phone, by licking my ear to wake me up (that one task already a service dog needs to know to be a hearing dog), alert me to go outside to potty, and leave it.
And still learning to drop it on command.
Rainbow loves eating apple sauce, carrots, and Cottage cheese mix in with his meals. This is very good for puppies and dogs to eat.
Rainbow got to go to Starbucks coffee last week in training. He learned not to bark at any other dogs when he see them.
I was told by the Guide Dog foundation if your Puppy can do all these thing know, it will pass the gene onto the next generation if you are going to breed him. I told them I will be breeding him up. Also they told me to tell you, you should let people know on your website that these breed make a wonderful service dog for any type of disabilities. You will get more people buying from you.
I will keep you up to date!
From Pami Perry
Bremerton, WA
---
Hi Jan,
Jonas has been such a wonderful puppy! He is so nice to have around and he is learning very quickly with his training. He is great with the kids and they are adjusting and learning how to act around him as well. I am amazed at how relatively easy he has been so far. I am so glad we got him, we all think he's a great dog.
Thanks,
Libby Rosencrans
Bainbridge Island, WA
---
Hi Jan,
Wanted to send you a Guinevere valentine. We think of you often. Guini is 42.5 pounds and loves everybody she meets. She is a star at dog class and puppy play group. We thank you so much she is a love and a beauty. Who wouldn't want a valentine that looks this good!
Jean and Liz
Over the Moon Labradoodles
Grand Forks, BC, Canada
---
Hi Jan & Larry~
Blazer says hi and is doing great. He's 17lbs and growing every day!
Lori Hinton
West Seattle, WA
Check out Lori's book, West Seattle 101!
---
Hi Jan,
I just wanted to let you know that Rosie has started losing her teeth and we've been lucky enough to get two of them! One molar (last week) and one lower canine (tonight). Fiona is delighted and wrote a note to the tooth fairy for the first one on Rosie's behalf (asking if Rosie could get a toy and if she could keep the tooth).
I've attached some Christmas photos - the grey elephant was Rosie's favorite. She's napping with it between her front paws right now, as a matter of fact.
Rosie is doing really well and continues to get compliment after compliment - so well behaved, so social, and so beautiful. Yesterday on the way to the dog park, a family asked if she could come into their Honda Odyssey to say hello to the four children - which she did happily. And she loves the dog park - spending about 1/2 of her time visiting the people and the other 1/2 chasing around with the dogs.
Happy new year,
Desiree
Sebastopol, CA
---
Hello Jan,
Happy new year to you and your family!
I can't tell you how much we are loving Louie. He has become just an amazing family dog for us. Christina (our 22-month-old) and he are just best pals. Where there is one, the other is within a few feet. He is so gentle with her—despite her enthusiastic playfulness with him. Really, we couldn't have been luckier. Thank you so much.
We take louie to the Mercer Island dog park now and again (Luther Burbank). He does well there—playful with the other dogs, but also comes easily when he is called. Thank goodness! I have been singing the praises of Seattle Labradoodles to anyone who asks where we got Louie—there seems to be a fair amount of people looking for a Labradoodle. I think (perhaps because I'm biased) that Louie helps promote your breed ;)—and hopefully they follow up and contact you when they get ready for another dog.
Thought you would get a kick out of the article! And by the way, when Chris said that Louie chews Christina's toys and she pulls his hair, that was a non-filtered voice! He rarely chews her toys, and she doesn't pull his hair anymore—she's figured out kisses! They got it right—he is a remarkable family dog!
Hope all is well—peace and health in 2010.
Jodie
West Seattle, WA
Read the article about Louie in the West Seattle Herald.
---
Hi Jan, it's hard to believe Friday has only been with us for a few months. He has the greatest nature and is a member of the family. He will lay down, stay and not beg through "people" dinner at five months old! He loves to get the paper from the driveway every morning on his way back from doing his business. (We have several seasoned dog owners in the neighborhood who have seen this and are amazed.)
We just returned from vacation in Sunriver—he was an angel six hours each way in the car—passing multiple socialization situations like old hat. He is easy going and loves to please. His only vice is going out on the beach, dragging huge pieces of driftwood back to the deck for chomping, but he happily takes a healthy toy in exchange.
Onto formal training in the fall, we will see what it brings. He is no ordinary dog. What a wonderful addition to our lives, thank you!
Julie
---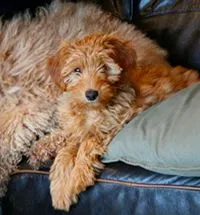 Could she possibly be ANY cuter???????????????
We love our girl :-)
Maggie Palmblad
Bedrock Labradoodles
Tualatin, OR
Riley will be a future mom for Bedrock Labradoodles.
---
Jan-
Just wanted to send a quick note and thank you for all the time you spent with us yesterday. What a wonderful day and experience so far! We have decided to name her Sunshine.
She did great on the car ride home. She woke up several times but went back to sleep pretty quick. She has seemed very comfortable and is adapting well. We have a little exercise pen in the kitchen and she slept in her crate in the kitchen last night. She fussed for about 2-3 minutes and then quieted down and slept from 11-5:45. We couldn't believe how well she did for the 1st night.
She really seems to be a perfect match for our family, thanks again!
Lisa
PS Aiden likes photography and took the picture of her curled up on the pillow. He wanted to make sure I sent that one to you. Colby was very proud that she is using the pillow that he hand stitched for her!
---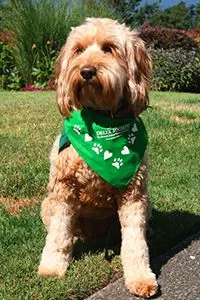 Carlie is now an official "therapy dog" with the Delta Society. I am taking her out to Camp Korey in Carnation in Aug. to work with the kids from Childrens Hospital.
Have a great summer!
Love and Prayers,
Cathy
Sammamish, WA
---
Hi Jan,
Thought you might like an update on our little doodlebug. Today he is 2 months old so we marked his shoulder height on the wall — will check it each month! He is the most popular kid on the block. He has met lots of people and they all say how did you get the cutest puppy in the world. And he is just that. Smart too. Goes out to potty nearly every time and sleeps through the night easily. Even sort of learning a few commands, sit, down, ball, and ah-ah-ah! Oh what a bright puppy.
We picked Jasper because it is a reddish color stone. He went to work one day with Rob and came to my office too. Went to an outdoor restaurant and what a crowd stealer! Will send you a few photos soon. He is ADORABLE. Rob says I was barking in my sleep last night...what does that tell you.
Momma Penny
Bainbridge Island, WA
Jasper is a future stud for Shedless in Seattle Labradoodles.
Shedless in Seattle Labradoodles 2015
---
---
Hi Jan,
We wanted to let you know that Ella has passed her Therapy Dog test and will soon be officially among that special class of dogs who help those in need. I've enclosed some recent photos of Ella. She is always lending a hand in the garden. Kale is one of her favorite snack foods while gardening. We hope you are doing well, and all of your children and pets are healthy and happy.
...
We had some professional photos taken of Ella and wanted to share them with you. I can't believe she is 2 1/2 years old already. We are taking our first road trip vacation with Ella. We will be traveling around Oregon! Hope all is well in your new home.
Take care,
Rick & Cynthia
Seattle, WA
---
Hi Jan,
As we head into Easter weekend I thought I'd send you an update on Pippin. She has been such a great addition to our family and has such a sweet disposition - we have lots of kids in our neighborhood and she's been great around all of them. Overall she's just a very happy puppy.
I've attached some recent pictures. Frank gets up first in our house so she's very attached to him and in fact her favorite resting spot is not a dog bed but on the top of Frank's briefcase (although we know she'll bit too big for this soon!). Olivia and Pippin are getting along great although every once in a while Pippin thinks she is a puppy, and every once in a while Olivia tries to dress Pippin up like a doll...but all in all very good.
Just thought you'd want to see.
Thanks,
Suzanne
Seattle, WA
---
Here is a very recent picture of Moshe. He is a favorite of the whole family and even had a special invitation to Christmas dinner.
Thanks again for the wonderful dog that has become so much a part of our lives. You did a wonderful job of matching dog to owners to be. Some of my friends told me recently they didn't think it would work out for me to be the owner of a dog again, but thanks to you, it is a wonderful experience. Rod adores him and often has Moshe in his lap in the evening. We will be glad to talk with future owners to be about the good start you and your family give the puppies you sell.
Wishing you and your family a most happy new year.
Janice
---
Hi Jan-
Just wanted to let you know things are going smashingly well here with Buster... We could not be more happy with him! He is such a sweet little boy! He and Myles are having so much fun playing in the snow and rolling around on the floor... Again, we are so grateful for all your work and care for him...
He went to the vet today and got a perfect bill of heath! The vet said he was beautiful!
All my best
Corey
Seattle, WA
---
Jan,
A quick email to say Hi and touch base. I have been meaning to be in touch and let you know how much we are enjoying Troy (that name finally stuck :-). Troy is almost a year old now and attached are some pics. Everybody dotes on him. He has a funny personality - a little scaredy type though very loving. He did well in school (basic obedience) though he still needs more socializing. His notable achievement by way of tricks..he will collapse with his feet in the air at the command of 'nighty night'. Enjoy the pictures.
Regards,
Vandana
Bellevue, WA
---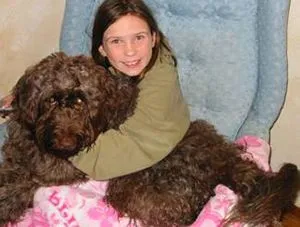 Hi Jan -
Hope your holidays were great. Sadie is doing wonderful... my daughter, Olivia wanted to try to get photos of Sadie when she was a puppy. She is doing a photo book of Sadie.
Let me know if you have any you can attach - thanks so much. Here is a photo of Sadie and Olivia.
Jodi
Bainbridge Island, WA
---
Hi Jan,
Today Leo and I went for a walk with Maggie in the stroller (see attached). As you can see, Leo was a perfect gentleman, 99% of the time. He is a lovely companion and I don't know what I would do without him!
Peggy
Bellevue, WA
---
Hi Jan,
Just a quick note to say that Coho is well and generally adapting to his new home and family.
... The girls are absolutely smitten! Not only do I have to train Coho, but I also have to train the girls not to spoil him with too many treats or to treat him like a human. The next few months will certainly not be boring!
I'm attaching two photos, one taken at your house on Christmas and another at our home the day he came home. Thanks again for all of your help. I'm sure we'll be in regular contact!
Cheers,
Eric
Seattle, WA
---
Jan,
She is sleeping through the night without needing to go out. Her appetite has been very healthy with the 3 1/2 cup meals each day. She also seems to enjoy the snow when she is outside for a few minutes. Bryant decided to name her Cinnamon.
... She has been such a joy so far, I think she has grown some since we brought her home.
Have all the puppies found their new homes yet?
Thanks.
The Moji's
Auburn, WA
---
Hi Jan,
I hope you and the family had a nice relaxing Christmas and are getting some quite time before the New Year! (Maybe not with all the pups and dogs.) Any way, I took some photos of our babies and attached them for you. Here are some words that may go with them for your website, if you would like.
Sophie and Sunshine, also known as "The Girls" at our house, love to play with each other. Sophie, who just turned 3 years in December, really enjoys playing run and chase with her half sister, Sunshine. Sunshine, at age 10 months, is trying to be the boss of the dogs and our cats. However, our cat Speedy still rules the house! Sunshine looks a lot like her mom Sunshine with very similar coloring.
The Girls are a wonderful addition to our family and we can't imagine not having them part of our lives!
The Mirabella Family
Bay area, CA We hand delivered both of these Labradoodle puppies to their new family in the Bay area! We offer a discount on a second puppy.
---
Jan,
Just the beginning of many more pictures to come. We love how he chills and hangs out with us and then when he is full of energy how he just bounces all over the back yard. We are really enjoying him a lot - thank you for all the great care you and your family gave him.
Happy Holidays,
Lisette
Miami, FL
---
Hi Jan,
Your new litter is so cute! Attached is a few more pictures of Carlie.
Cathy
Sammamish, WA
---
Hi Jan,
I attached some pictures of Jeter. He is so cute. Everyone just loves him. :) It looks like you sold the other two dogs. How is the new litter?
Tina
Sammamish, WA
---
Hey Jan,
We were out in the yard for a birthday romp and right when he and LouLou stopped for a breather and a bit of attention paid in some other direction I got a nice pic of this crazy two.
They are the very very best of buddies, to say the least. Although sometimes Lou looks at us and in her eyes is the question "why", he can be somewhat 'constant'. But then she pounces on him again and they're off to the races. In a word, they're a great pair. And he's more than we could've hoped for in a loving companion, for us, much less LouLou.
Thanks again and best wishes,
Cheers,
Ralph & Peggy
Morganton, NC
---
Hi Jan,
Just a few photos. Cairo is doing great and a happy dog.
Christiane
Seattle, WA
---
Hi Jan,
I just wanted to send you a little update on Charlie. He's doing so well and we absolutely adore him! He's good-natured, playful, and polite. We've also recommended you to a number of our friends!
Hope all is well,
Katie
Los Angeles, CA
---
Hi Jan,
I hope all is well. Your newest puppies are darling. I have two friends who are enjoying your Labradoodles. I always sing your praises when someone asks where we got our great dog.
Cristy
Redmond, WA
---
Jan,
Hope all is well. Thought I'd send you a recent picture of Maizy who is about 10 months old now (and needs a haircut!). She is doing well!!
Amir
Baton Rouge, LA
---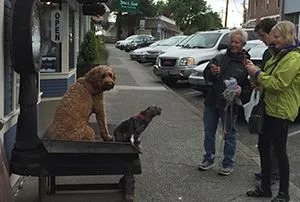 Jan,
Labradoodle owners are easily amused in Langley WA. Here we have Aust. Labradoodle Captain Mac, a.k.a. Mac the Big Red Dog, weighing in at 72 lb. Oops! To the right is little buddy, Bosley.
Mac
Langley, WA
---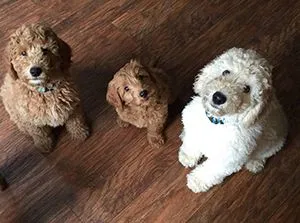 Hi Jan,
Oh yay!!! They are so cute! 😃 that's awesome! Thanks so much for sharing, I love seeing things like that!
Thanks
---
---
---
"

The first day and night went well. The kids are crazed with excitement and I must say it was nice to send them off to school today (for me, anyhow)! Snicker has been doing great with housetraining.

"

Shawna / Woodinville, WA

"

Jonas has been such a wonderful puppy! He is so nice to have around and he is learning very quickly with his training. He is great with the kids and they are adjusting and learning how to act around him as well. I am amazed at how relatively easy he has been so far. I am so glad we got him, we all think he's a great dog.

"

Libby R. / Bainbridge, WA