---
Born: 4-29-23
Visit in June 2023 in Nine Mile Falls, WA, near Spokane
Pick up/New Owner Orientation June 29-July 2 conveniently in Tumwater, WA, or by appointment in Nine Mile Falls.
---
Summer Puppies are almost here!

Montana Hannah and Moonlit Acres Bowie announce a litter of medium size Australian Labradoodles due at the end of April, and are ready for home at the end of June 2023. These pups will mature to 30 to 45 lb., 17 to 20 inches tall. The colors will be apricot, caramel, chocolate, black, cream, red. Reservations are open. Please text us to set up a phone call about one of these allergy-friendly, non-shedding pups. Visit near Spokane at our home in Nine Mile Falls. We will deliver pups to Seattle area free of delivery charge.

Seattle's Smitten with ZoZo and Moonlit Acres Bowie announce a litter of medium size Australian Labradoodles due at the end of April, and are ready for home at the end of June 2023. These pups will mature to 30 to 45 lb., 17 to 20 inches tall. The colors will be apricot, caramel, chocolate, black, cream, red. We are ready to chat about these non-shedding, allergy-friendly pups at (425) 802-0342. We invite you to visit these pups in Nine Mile Falls, and we will deliver them to you in Seattle are at 8-9 weeks of age, at no delivery charge.

Born 4-25-23
Visit the parents and pups in June 2023 in Nine Mile Falls at our home
Pick up/New Owner Orientation available in Fall City Thursday June 22
---
Born: 4-29-23
Visit in June 2023 in Nine Mile Falls, WA, near Spokane
Pick up/New Owner Orientation June 29-July 2 conveniently in Tumwater, WA, or by appointment in Nine Mile Falls.
---
In April 2023 these breeder friends have pups ready for homes:
Tiffany at South Sound Labradoodles in Tumwater, miniature pups ready in April
Gayle at North Country Australian Labradoodles in Spokane, miniature pups ready in April
Jean at Ever After Labradoodles in Spokane, miniature pups ready in April
Tami at Little Creek Labradoodles in Spokane, miniature pups ready in April
Bourbon Rose Labradoodles in Panama City Beach Florida has medium Australian Labradoodles ready in July 2023.
---
---
These excellent breeders have allergy-friendly, non-shedding puppies available for you right away

EverAfterLabradoodles.com, who delivers pups to Seattle, has miniature Australian Labradoodle park and solid pups available Feb 1 2023.
---
Most of our Australian Labradoodle pups are a variation of this color, which is called dark apricot or red in the Labradoodle world. We raise pups that mature to 35 to 55 lb., which are mostly mediums and a few smaller standard sized. Ours are 18 to 21 inches to the shoulder as adults. They are low shedding or non-shedding.
---
Who makes a wonderful puppy parent? One with realistic expectations and plenty of preparation.
---
Puppy Reservation and allocation of puppies

To reserve a puppy, please fill out the Puppy Application and place a 300.00 PayPal deposit. After reviewing the application if we do not choose to work together or I do not have a pup for you, I will refund the deposit.
Please understand the process of matching pup to applicant. You are welcome to visit and express your four favorite pups in the litter, and why you have chosen them. Please identify any pup that you do not favor. Using both your preferences and my experience, I will match a pup to each applicant that best. I appreciate your thoughtful consideration of this process. Experience tells me that those who only find one pup in the litter that has potential, may not be the folks I choose to work with, unless this dog has a firm future as a service dog. If a future owner plans to have a service dog, I suggest a trainer be part of this matching.
I will make a match that:
meets the needs of each individual applicant
meets the needs of each individual pup
will provide a lifetime match in which "never the two shall part"
Why do I state this? There have been times that as a softie, I have been talked out of a solid match and into a pup that someone chooses based on aesthetics. It has not worked out well on a few occasions.
Does anyone get preference in choosing their pup at Shedless in Seattle Labradoodles? Yes indeed!
An applicant and dog that has a solid plan as a service dog. These need special consideration.
Those who have purchased a pup from me in the past. A loyal friend is a treasure.
Future hopeful breeding dogs. This assures the health and success of the breed.
Some breeders will sell first pick of the litter to the highest bidder, or to a person paying hundreds or thousands of dollars. Hmmmmm. Perhaps if you are willing to make a very very meaningful contribution to one of my favored philanthropies we can talk. A meaningful and generous contribution! The kind that brings hope to the hopeless, food to the hungry, water to the thirsty, dignity to the oppressed. Run it by me! I might be moved.
Our Forever Family Guardian Home Opportunities
Often we are approached by families who want a Doodle but are put off by the price. If you are in that situation, our Forever Family guardian program may suit your needs.
Labradoodle owners are writing in to us! Read their letters at our Owners page.
A Forever Family takes possession of their puppy at 8 weeks of age with their puppy being a permanent member of their family. The puppy comes at a greatly discounted price depending on our agreement. In return, the family allows their dog to become a part of the Shed Less in Seattle breeding program.
Why do we offer this? We are committed to have every breeding dog live as a pet in a home rather than in kennels (we have no kennels). This allows us to expand our breeding program and still have just three pets living in our own home.
The female will return to our home for 6-7 weeks for each litter. She will complete her mom career at four years of age. A male may complete his earlier. Some families enjoy being part of the birthing process. We pay our Forever Families a yearly stipend to cover premium food and for incidental costs. Forever Families need impeccable character references and should be permanently residing within two hours of Spokane.
Multigen and Australian Labradoodle puppies are $4,000 for pet puppy (beginning with deposits received July 1, 2021), which includes:
Three carefully chosen puppy training and housebreaking books that are age and experience appropriate.
Three year health guarantee
No questions asked "I will refund purchase price and take the dog back if needed" guarantee for two years, full refund.
Three toys that your puppy and litter mates has been playing with, to send familiar smells home.
A blanket that your puppy has slept with in order to comfort your pup with familiar scents.
Food that your pup is accustomed to eating
Microchip already implanted and paid for a lifetime
One year subscription to the Whole Dog Journal periodical which I consider the best collection of health, training, food ratings for dog owners
My recommendations on essential puppy preparation supplies, supplements, training resources
Discounts for returning families.

To make a deposit, text to set up a phone conversation first. Conversations include all adults in your household and will happen before 3:00 weekdays.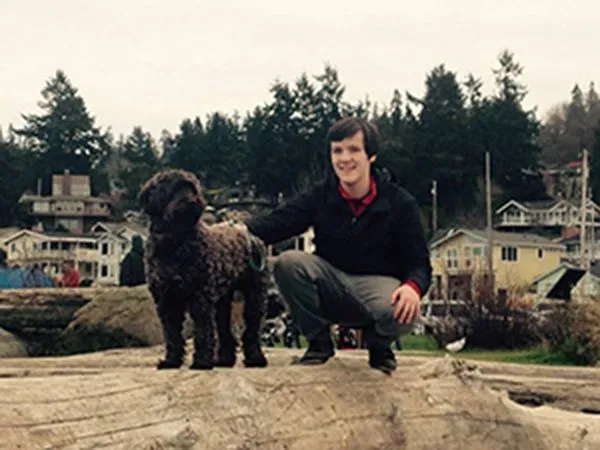 Your puppy will have eight weeks of tender loving care inside our home, including exposure to the sounds and socialization of family life. We practice crate training with your puppy during its last weeks with us. Your puppy will be sleeping from 11pm to 6am on its first night home with you. At 8 weeks of age, your puppy will have ridden in the car multiple times, visited stores and Starbucks. This assures that your puppy has been socialized inside your home and out in public. We make an effort to expose your puppy to potentially scary noises such as lawnmowers, leaf blowers, and traffic, in our care, before it comes into your home. This is something that a kennel cannot offer your puppy!
At 8 weeks of age, I carefully match the characteristics of each pup to the needs and desires of each waiting family, as they are expressed at the visit. I love visits with waiting families. It is good for the puppies and good for the future owners to get to know me, and see how puppies behave in the litter. Don't be concerned about reserving the last puppy, as your request will be honored as if it were the first. There is no "last-pick puppy" at Shedless in Seattle Labradoodles. I will announce the matches with families after eight weeks. Pups begin going home after that time, up to nine weeks of age.

While we are not able to accommodate "just-lookers", we absolutely love to meet our future Labradoodle owners. So do the puppies. Come see us!
Before picking up your pup, you will want to have arranged an appointment for a veterinarian checkup as stated in your contract.
During your puppy's time with our family, we will:
Introduce him to the many sights and sounds he will hear in your home and during travel
Give him opportunities to be curious and explore in tunnels, boxes, and with balls and various toys
Introduce him to adults and children, as well as other dogs in our home
Coach him regarding appropriate play with humans
Introduce him to crate training
Our Commitment to You
It is our desire as breeders that in your experiences with us you will find us excellent, faithful, honest and responsible.
Excellence
We will breed only carefully chosen dogs, selected for excellence in temperament, health, and conformation to the developing breed. We use only parent dogs tested for hips and eyes to improve the quality of the breed. By using artificial insemination we are able to use the best sire for the desired traits of our puppies and the developing breed. Our goal as a breeder is to offer a low- to non-shedding outstanding family companion. In this effort we will not put health in second position. We consider excellent health, lovable temperament, and a non-shedding coat the three strands of one cord, each being of equal importance.
Faithfulness
We will care for the parent dogs and puppies in a way that would be pleasing to you. They eat the highest quality human-grade food, and take natural supplements. We attempt to keep our home and outdoors chemical-free. Our dogs live, are exercised, and are socialized in a home. Our puppies will come to you having been exposed to the many noises that they would experience in your home and neighborhood. For details on how we care for your puppy, see Delivery Information.
After you receive your puppy we hope to hear from you. We will be available to you via phone and email for consultation or to direct you toward useful resources. We hope that long after this adoption you will regard as both breeder and friend.
Honesty
We will be honest and forthcoming in our transaction with you, as we expect you will with us. We value transparency in relationships and business dealings.
Responsibility
We do not want any of our puppies to end up in a shelter. If you ever find yourself unable to care for your pet we will assist in finding a new family for your dog by using resources available to breeders. We will attempt to find a new home in your vicinity to save you the cost of shipping. If there is no adoptive home found near you, you may ship the dog to us for care until a new family is found.
---
Spring 2021 pups are all in their homes. More like this arriving early 2022.
---