Welcome to Shedless In Seattle Labradoodles
Family Breeders of Multigenerational Labradoodles
since 2005
Call us at (425) 802-0342
Welcome to Shedless in Seattle Labradoodles, breeders of outstanding family companions. Our family team trusts that you are enjoying your research on perhaps the most ingenious combination of traits ever bred in the canine world a loyal, warm, intuitive and social dog in a low or non-shedding and allergy friendly coat.
As of July 2016 our family lives in the Inland Northwest, just west of Spokane Wa and Coeur d' Alene Idaho. We are in the sweet town of Nine Mile Falls. We moved to this area for my husbands new job at Whitworth University. Because we had been in the Puget Sound area for the first 14 years of breeding, we have a small home on Vashon Island just a 20 minute ferry ride from West Seattle. We can meet with our future puppy owners at either home. We raise the pups at our Nine Mile Falls location and will bring the litter to Vashon WA at six to seven weeks of age for our Seattle area folks to visit with pups. Back to Nine Mile Falls we go until pups are eight and a half weeks old and we will come back to Vashon for puppy pick up. When pups leave us, they have logged plenty of hours in the car; a bonus to new puppy owners!
We are a small and personal family breeder. Our dogs live in our home and scamper around our wooded property. Our doodles are constant companions and entertainment for our family. Our dogs receive abundant attention from people of all ages. Our family schools at home, which allows breeding to dovetail into our lifestyle. Our dogs spend their days on trampolines, on jogs, on couches - but never in a kennel. We are not a kennel breeding operative and have no plans to become one.
Breeding has been a family endeavor in which we each play specific roles. Our roles span from web developer to pooper-scooper to financier. You may speculate who gets each role!
As we add breeding females to Seattle Labradoodles, they will live in the homes of carefully chosen guardian families, as their forever pets.
Our interest in Labradoodles began with our beloved Lab, Duke. He is 108 lbs. of love and a few more of shedding hair. Several of our family members have allergies; two have asthma. When we wanted to add an additional dog to our family, it made sense to look toward an allergy-friendly addition.
A second reason we became interested in breeding has to do with that "nurturing desire" which doesn't seem to diminish for some of us old mothers. Breeding allows me to still hear the pitter-patter of little feet, without paying for their college tuition!
Finally, the care, responsibility, and decision-making for breeding with excellence is an invaluable life lesson for our children. Hence, what began as a family quest for the perfect dog, led to a family endeavor which in my husband's words "may or may not break even, but sure provides plenty of memories and laughs." It certainly has.
Autumn 2016
Changes are underway! With the Autumn weather we are announcing a change to our eleven year strong breeding program. Our family has moved from Sammamish WA in Seattle area to Nine Mile Falls, WA. This is north of Spokane. My husband took a job with wonderful Whitworth University over summer 2016. We are almost unpacked!
Our Crew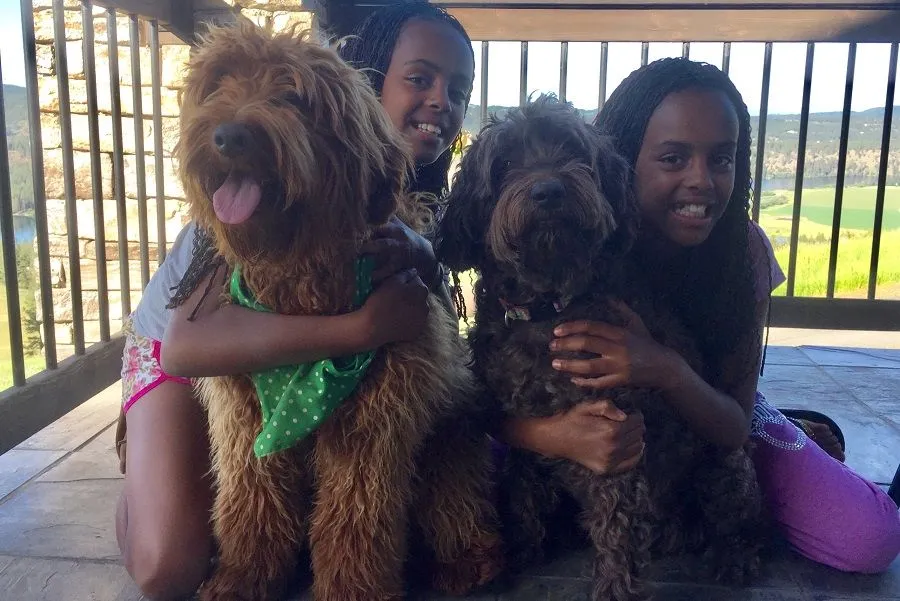 Tami T., my super Administrative Support in Sammamish

"Pretty Precocious Piper" my 15 year old best friend
The Australian Labradoodle Association of America has provided structure and training to breeders of Labradoodles around the world since 2004. I have attended their ongoing education conferences seven times since I began breeding in 2005. Speakers are geneticists, positive dog trainers, researchers, OFA board members, I am very grateful to the volunteers who have served this community through the ALAA.